British PM May looks for Brexit support in Denmark
Comments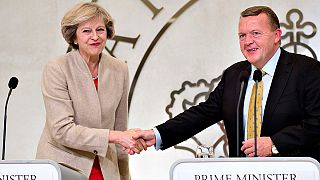 British Prime Minister Theresa May has been holding talks with her Danish counterpart in Copenhagen.
Her meeting with Denmark PM Lars Lokke Rasmussen comes as the UK is trying to seek out common ground as it prepares to quit the EU.
"I want the agreement that we come to to reflect the kind of mature, cooperative relationship that close friends and allies have," said May after the meeting. "And, as part of that, I expect to be able to guarantee the legal rights of EU nationals already in the UK, so long as the British nationals living in Europe – in countries who are member states of the EU – receive the same treatment."
But France is sticking to its position, shared by many other EU members, that Britain cannot ditch freedom of movement if it wants unfettered single market access.
Michel Sapin, France's finance minister, said: "Negotiations should be as much co-operative as possible. But there are principles, there are four great liberties. Those four great liberties must be inseparable and the freedom of circulation of European citizens in the framework of this area is an absolutely fundamental freedom and we cannot give in, regarding that."
May has said that she plans to trigger the process for quitting the EU under article 50 of the bloc treaty by the end of March next year.
Rasmussen, meanwhile, said he would work for a 'friendly divorce' between Britain and the EU.
"I'm sure we will be able to overcome any obstacles," he said.
"We should aim for a friendly divorce. That will be our starting point in the coming negotiations."
Experts told Euronews in August that Denmark was one of the likeliest to be the next to leave the EU.