Happiness at work - dream or reality?
Comments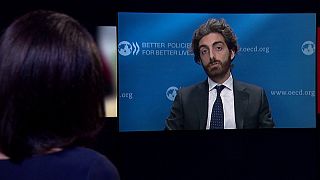 "Choose a job you love and you will never have to do a day's work in your life"
We are probably moving beyond a model where competitiveness comes from working your workers as hard as possible
Confucius had a point.
These days, everyone has heard about the importance of work-life balance the concept of a more balanced prioritising of employment and lifestyle.
But how important is it to like the work you do when you are actually engaged in doing it?
The OECD's labour market expert Paolo Falco
explained to Insiders presenter Sophie Claudet how the Scandinavian countries are leading the way forward.
Paulo Falco:
What we do here at the OECD is work with a new metric of job quality that we have devised over the last few years which defines jobs in terms of the characteristics that are most important for workers' wellbeing.
And what we find, perhaps surprisingly for some, is that job quality does not come at the expense of job quantity. This means that they can be achieved simultaneously and, in fact, there are countries in the world that manage to achieve both high levels of job quality and a fairly efficient economy that creates a lot of jobs.
Sophie Claudet: What are the best ingredients to ensure happiness at work?
Paulo Falco:
Pay, of course. Security on the job and the quality of the working environment which we consider being a good balance between the demands that a job places on workers and the resources that are at the worker's disposal for coping with those demands.
And we find, for instance, that having learning opportunities on the job is a fundamental aspect of job quality because it equips workers with the tools that they need to deal with jobs that might otherwise be more stressful, be more complicated, and place higher demands on them.
Sophie Claudet: Which countries in Europe are lagging, especially in terms of allowing or considering that wellbeing is important for both employees and employers?
Paulo Falco:
I would say that there is a lot of heterogeneity first of all, if we have to identify countries that have succeeded in creating high quality jobs by the metric that I described earlier, so for instance countries that have a good capacity of maintaining a good balance between the demands placed upon workers and the resources at their disposal, I will look in northern Europe, I will look in Scandinavia.
Sophie Claudet: Are you confident about the future and confident about the fact that more and more countries in Europe will recognise that the wellbeing of workers is actually in the interest of employers and society at large?
Paulo Falco:
I would say that if companies that are starting to set the trend show they are ultimately being successful, I am thinking about companies working in the knowledge society, like Google, for instance, which have recognised that in order to compete and innovate, you have to have motivated workers and that we are probably moving beyond a model where competitiveness comes from working your workers as hard as possible, paying them as little as possible, then these companies and these countries which are going to be successful in increasing productivity are going to show the way for the rest and they are possibly going to lead to change that is more widespread.
Live updates from our Insiders team