Germany: workers reaping what they sow!
Comments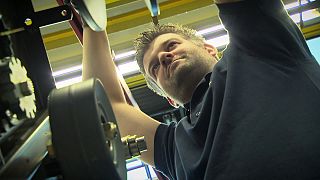 We took a trip across Germany on a quest to find out what companies are doing to make the most of team morale.
The first stop was Harsewinkel, officially nicknamed "the harvester-town". They are so proud of it, they even wrote it on their sign!
STAGE | El HSV ha partido ya hacia Harsewinkel, donde se concentrará del 19 al 24 de julio. #HSVpic.twitter.com/5CAr4Lwm14

— Hamburger SV ⚓️ (@HSVsphera) July 18, 2015
It really yields results!
Claas is a global player in the combine-harvester market, employing over 11,000 people all over the world. It is still mainly owned by the Claas family who founded the company in 1913. Since 1984, workers have been able to buy shares. And they do. Massively. Co-ownership is a great way to boost motivation.
Claas factory, #Harsewinkel Progress through the years. pic.twitter.com/SlfXhBW3uZ

— David Park (@wdp52) March 17, 2016
Jochen is a precision mechanic. He has been buying company shares since he joined Claas aged 17. Each year, employees can invest up to 1200 Euro, the management tops it up a little. Claas workers have put 40 million Euro into their own company so far.
And this really transformed the company's "feel-good factor":
The internet-platform kununu gives employees the opportunity to assess their working conditions. Satisfaction is rated with up to five stars.
Universität Paderborn: Wirtschaftsinformatiker besuchen Unternehmen bei CLAAS in Harsewinkel https://t.co/HQWxxznf0Upic.twitter.com/jlwgPr0TTr

— Wirtschaft Regional (@wirregional) December 2, 2015
Rate your boss!
The company's employees hand out good grades for management, teamwork and for the general atmosphere in the workplace. Internal communication, gender equality and relations with older colleagues, career opportunities and salary level get positive rankings too.
Reaping the rewards
Euronews – Hans von der Brelie
"Hi Jochen. I just have a straightforward question about the employees' financial involvement. It's your money you are putting into this company. Why are you doing this?"
Jochen Thiäner – Precision Mechanic
"I got involved because of the excellent returns. Over the past ten years the average interest on returns was about twelve percent."
A family affair
Euronews – Hans von der Brelie
"How did you join the company? Tell us about the very beginning, how it all started, in terms of the employees' financial involvement…"
Jochen Thiäner – Precision Mechanic
"My parents fell in love while working here, at Claas, and got married. Later on, as a teenager, I got enthusiastic about technical stuff. So I did my vocational training here. I am a precision mechanic. My father had also bought employees' shares, that's why I wanted go get those shares too. There's good money to be made."
The invested money is frozen for nine years. After that, it can be pulled out… or re-invested. The vast majority of workers go for the latter, thereby building up a modest fortune and beefing up their retirement funds.
Well it seems pretty clear why the workers are keen on this employee's shareholder scheme. But what is the advantage for the company? We asked the management team.
What's in it for the company?
Peter Göth is a leading Claas manager. He told us that the employees' investments raise the company's net assets and the involvement scheme creates strong links between staff and the company.
Peter Göth – Executive Director CMG Claas
"By now over 70 percent of employees are participating in this model, that shows that they have huge trust in the company – because they wish to invest their own money into it. – The idea in the very beginning was to make it possible for employees to become co-owners."
Hans and crew filming at Claas factory
Breaking bread with the boss in Berlin
The next stop was Berlin… Germany's IT hub.
It's breakfast time for all the brilliant computer-geeks and software developers.The boss himself prepares scrambled eggs for the employees.
Cortado# began as a Berlin start-up. Four masterminds with a brilliant brain child about how to make PC printing more efficient. Today, Cortado has 200 staff and is a global business.
Der #AWSSummit in Berlin ist gestartet. Wer unseren schönen Stand B6 anschauen möchte, ist herzlich eingeladen! pic.twitter.com/TrsnwVf0RM

— Cortado AG de (@cortado_de) May 15, 2014
As reflected in all the smiling faces the motivation really is top-notch…
Alexander Bernhardt – Cortado employee
"Often, we eat together: You can talk over any problems with anyone, from any department. You can eat with colleagues you do not see often in your daily routine and so you find solutions to your work problems, through a new approach, a new idea. You are no longer trapped in your own mental bubble."
31-year-old Alexander joined Cortado two years ago. He's in charge of sales and distribution. Once a week he presents web-based training sessions for clients around the world.
Keeping it cool
The company strives to continue in the same start-up spirit as they began:
Keep cool – feel free – have fun – and come up with innovative ideas by having a nerf gun shoot out with your colleagues…
Alexander Bernhardt – Cortado employee
"Don't take yourself too seriously… really. Take your favourite film poster to work, put your action-figures on your desk… somehow it's about bringing your own personality to the office. Thereby the way we work together becomes more relaxed… You get rid of this kind of rabbit hutch around your head: in order to think freely you have to find ways to unshackle your mind."
And what about the company's kununu-ranking ?
Management, teamwork and work atmosphere were graded very high. Internal communication ranks medium. But there are excellent grades for gender equality and relations with elderly colleagues… though career opportunities and salary level ranked slightly lower.
Sven Huschke, CFO, Cortado Holding
"Horizontal organisation means shortcuts to talking with your team leader. For us that's an advantage: Everybody gets unfiltered feedback, honest, straightforward feedback."
Take 5…or 6 if you want
The freedom to take a break and fool around is another source of motivation.
Alexander Bernhardt – Cortado employee
"We can play table-football to relax, we have a station for video-games to let our hair down and we also have a real football team which plays regularly…"
And there is yet another reason for the unmistakable cheer around the office…mutual trust. Whenever Alex needs some fresh air, he can work on the go, at home or just on the Spree riverside around the corner.
Alexander Bernhardt – Cortado employee
"You boost your creativity when you have the opportunity to set where and when you work. You can tackle problems in a more creative way."
Both Claas and Cortado, received awards from the German Association of Employee Involvment . They developed a corporate culture based on real partnership.
Hans and crew filming in Berlin/Cortado
Inforgraphic:Tax breaks for employee investments
Live updates from our Insiders team