EU agrees to ratify Paris climate deal
Comments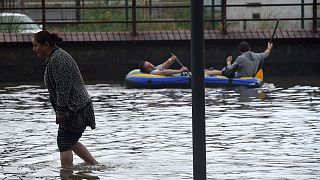 Environment ministers from across the EU agreed to ratify a landmark UN climate accord on Friday.
The agreement to cut greenhouse gas emissions was struck in Paris in December.
It needs at least 55 countries representing at least 55% of emissions to ratify it before the pact can enter into force.
The US and China, which are the world's two largest emitters of greenhouse gases, have already ratified the agreement.
The EU's move means that it will likely enter into force by the end of the year.
"Our reputation was on the line," said Miguel Arias Canete, the EU Commissioner for Climate Change.
"They said that Europe is too complicated to agree quickly. They said we had too many obstacles, they said we were all talk."
Countries that signed up have agreed to cut greenhouse gases and keep the rise in global temperatures below 2 degrees Celsius, compared with pre industrial levels.
The Paris Agreement will eventually replace the Kyoto Protocol, which was brokered in 1997.