Jean-Yves Camus on Europe's shift to the right
Comments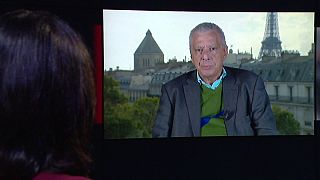 Insiders speaks with political expert Jean-Yves Camus on the shift in Europe towards the right.
Sophie Claudet
How would you explain the rise of populist right-wing and far-right parties in Europe?
Jean-Yves Camus
Migration plays a role. European voters do question immigration, but there's also a crisis of European integration and a lack of European identity. Citizens have the impression that the European Union is a bit of a cold, distant monster, whose democratic legitimacy is not clearly established. They do not so much contest the principle of Europe – they want Europe – but they do not necessarily want THAT one.
Sophie Claudet
Do these hard-line parties actually have a program that makes sense?
Jean-Yves Camus
What we know is that in Austria the FPÖ already participated in a coalition government and didn't meet the objectives it had set, it didn't deliver the policy it had proposed to voters and that's why it got punished in the general election that followed.
Sophie Claudet
But ten years on the FPÖ is doing really well. One can certainly imagine that the next Austrian president could come from that party, maybe even the future chancellor. So, actually, a majority of Austrians support the extreme-right…
Jean-Yves Camus
The Austrians are in a particular situation because, as in Germany, Austria is governed by a large coalition of Social Democrats and Christian Democrats – from the left to the right – and that's basically this governing modality that some of their respective electors are contesting today. They want to somehow overturn the table and give a chance to a party that has a very simple speech that says: 'There's the elite and the people, and if the elite betrays you, WE are the people, we will represent you and if we get to business, we will do exactly the opposite of what the mainstream parties have so far achieved.'
With this simple argument a portion of the electorate says, 'Ultimately, these far-right parties are not very structured, we are not certain they will be great in power, but we want to overturn the others so badly that we're going to give them a chance'.
Sophie Claudet
Are Europe's traditional republican parties questioning their strategy or do they tend to align with the rhetoric of populism?
Jean-Yves Camus
Effectively we have a temptation in the democratic right to run after the vote of the extreme right. It's a tactic that never works. We have known this in France for some thirty years. But there are still politicians who think that by outbidding the proposals of the extreme right – that of France's National Front for example – it will bring back constituents. This is a gamble that has, so far, never worked. Rather, I believe that there is a necessity for the liberal and conservative right to return to its fundamentals, to reconnect with a very old ideology: that of liberalism, that of social conservatism, and then to explain to voters that opposition parties who have no government experience are parties that will lead us into a wall, because one can effectively challenge the terms of European integration. But leaving Europe, saying no to Europe and going at it alone, will undoubtedly – and in particular economically – lead us into a wall.
Live updates from our Insiders team