EU-US trade deal before Obama White House exit 'unlikely', says top official
Comments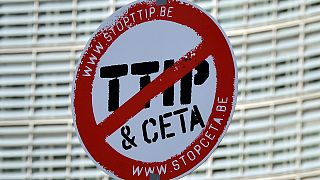 EU-US free talks are floundering amid increased public opposition in some member states.
Not a single chapter of negotations have been yet concluded, the European Commission says.
The EU executive had originally hoped to seal a deal with Washington by the end of the year.
With the US election on the horizon, officials admit that timeline looks unrealistic.
Cecilia Malmström, European Commisisoner for Trade, told reporters in Bratislava on Friday that concluding the deal before Barack Obama leaves office "looks increasingly unlikely."
"However it makes sense to continue the talks and negotiations" said Malström.
"There is a round planned for begining of October in New York, and we will try to make as much as progress as possible."
The EU is also negotiating a free trade deal with Canada.
The aim is sign that agreement at an EU-Canada summit in October in Brussels.
It will then need to ratified by parliaments across the 28 member states.