Workers march over Caterpillar job cuts
Comments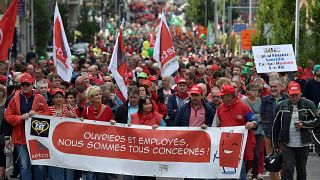 An estimated 5,000 people marched through the Belgian town of Charerloi, police said on Friday, in protest at planned job cuts by machinery maker Caterpillar.
Early this month, the US-based firm said as many as 2,000 positions could go at its factory in Gosselies.
Executives say they plan to move production shifts to other facilities worldwide.
The company is undergoing a cost-cutting exercise and wants to slash 10,000 jobs by the end of 2018.
Unions and workers organised the demonstration, but they were joined by local people who wanted to show their solidarity with those affected.
The protest comes just days after Jean-Claude Juncker, the head of the European Commission, told MEPs that he wanted the European Union to be "more social", reports euronews' Efi Koutsokosta
That call was met with scorn from Caterpillar employees.
"I'd ask him to be in our shoes, even if only for one day," said one employee. "Before he's spent in a day in the shoes of a worker in our situation, he can't say anything because he knows absolutely nothing.
"We need the bosses to have fewer benefits in Belgium," said another. "The multinationals, we always give them more dividends, but we the rest get nothing back in return."