Germany unveils civil defence plan
Comments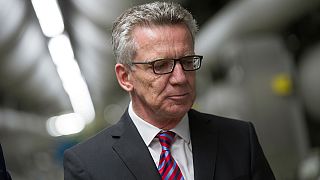 The German government on Wednesday unveiled its first civil defence plan since the end of the Cold War, which include advice to stockpile key supplies in the event of a terror attack.
The plan was presented to ministers on Wednesday after a string of media leaks since the start of the week.
It also moots a possible return to conscription, five years after compulsory military service was abolished in Germany.
"The growing vulnerability of our modern infrastructure and the dependence of modern society on supra-regional resources – for example electricity, water, IT supply, nutrition – indicates that there are varied points of attack in such modern societies and that requires a diverse preparation," said Thomas de Maziere, Germany's interior minister.
Last week, Berlin announced tough new anti-terror measures including a controversial proposal to strip jihadist fighters of their German nationality.
But the proposals on stockpiling sparked comical responses on social media.
HamsterKaufe – a German term for panic buying or hoarding like a hamster – became a popular hastag online.