Antibiotic resistance - is the meat we eat fuelling a ticking health bomb?
Comments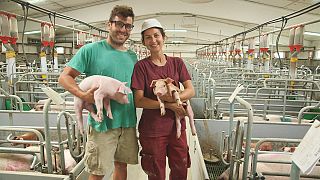 It's hardly talked about, but antibiotic resistance could be the next big global health problem.
Fifty percent of the antibiotics produced in Europe are for livestock and experts say resistant bacteria is transmitted to humans through meat.
So why do farmers use so many antibiotics and what are the future health risks?
insiders went to Lleida, in Catalonia, to investigate.
Europe – the home of meat-eaters
Europeans like meat. On average, each year, they eat 10 kilos of beef, around 22 kilos of poultry and 31 kilos of pork.
Neus and Axel run a farm in Lleida, where some 120-thousand pigs are born each year.
They fully comply with regulations: not using antibiotics for animal growth, forbidden since 2006.
For them, antibiotics are needed to treat disease or prevent a mass outbreak – but there's no question of abuse.
"In this pen for example, if a single piglet has diarrhea, we only give it to them. But if there are more than three sick, the 13 little ones will receive them," explains Neus Serentill Lorente, General Manager of Terraple Farm, as he shows us around.
To reduce consumption, Neus has invested in computer software, which monitors food consumption of the 3500 sows.
"Here you can see the sows that have not eaten today. This allows us to detect any diseases – and so, in the end, to use fewer antibiotics," says Neus, explaining how it works.
For Neus, the use of fewer antibiotics is also a guarantee of quality, a way to be more competitive – and necessary for animal well-being.
"There are some who can not feed themselves. So, they need help with drinking milk," says Neus.
"This is very important in the first 24 hours. This is when immunity is transmitted. The more they drink this milk, the less sick they will be and the less antibiotics they will need."
Antibiotic resistance – a ticking health bomb?
Euronews' Serge Rombi reports: "An important British study shows that, by 2050, antibiotic resistance could become even more deadly than cancer – with more than 10 million victims a year.
"So we're looking to understand how it can be transmitted from an animal to humans, but above all how can farmers prevent this happening?"
It is at Barcelona University Hospital that we find the answers.
Jordi Vila is a leading European specialists in antibiotic resistance.
"In the digestive system of animals, there are bacteria, the bacteria are living there perfectly. We've been giving antibiotics to animals. And, for a long time, they were given growth antibiotics to make them grow faster. And it's this that's caused the emergence of antibiotic-resistant bacteria, that can be transmitted to humans," explains Vila, microbiology department head.
But for him, there's no question of stigmatizing farmers.
They're far from being solely responsible for the development of the famous super bacteria, some resistant to all antibiotics.
The origin of the problem, he says, is much more global.
Precautions can be taken to avoid transmission from animal to human – meat must be cooked for 10 to 15 minutes at 60 to 70 degrees. Hands also need to be washed.
"When you are trying to wash a chicken, your hands can become contaminated with resistant bacteria that come from the chicken," says Vila.
"If the hands are not washed, and then a lettuce is cut, then resistant bacteria from the chicken is transmitted to the lettuce. And the lettuce is eaten directly."
The butchers' view
For professionals at the Martin Fierro butcher shop in Lleida, the issue is of great relevance.
Customers are increasingly sensitive about general quality, and the presence of antibiotics in particular.
"It's a Galician chicken, a class A chicken, fed on corn for 45 days without antibiotics," says Rosa Maria Morillo, explaining a product in the shop.
But cost remains a problem.
An organic chicken, for example, can be six times more expensive than an ordinary chicken.
Furthermore, not all of the industry is as fussy about quality.
"A little more information would be good. We don't sell as much meat as the supermarkets, but today they're the ones who sell the most – and not the traditional butchers," says Morillo.
What are the solutions?
There are many voices calling for a drastic reduction in the use of antibiotics in livestock.
Europe could also legislate on this aspect.
New antibiotics could be developed within 10 years, if enough resources go into research and quickly.
"If we take the worst case scenario, that of a super high level of resistance, and we don't have new antibiotics, then everybody will be susceptible to an infection which has been treated with a natural antibiotic for 30 years. But in 20 to 25 years, there will be no effective antibiotic," says Vila.
Live updates from our Insiders team