Europe's lorry manufacturers hit with €3 billion fine for price-fixing
Comments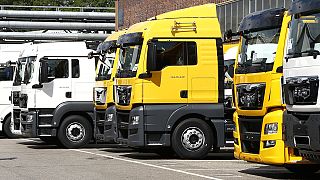 Four of Europe's top lorry manufacturers have been fined €2.93 billion for price-fixing.
It's the EU's biggest ever fine for this type of crime.
The European Commission said Volvo/Renault, Daimler, MAN, Iveco and DAF colluded to keep prices artificially high for the customer for 14 years between 1997 and 2011. They also passed on the costs for meeting environmental standards to customers.
The five companies, who between them produce 90% of all medium and heavy goods vehicles in Europe, should have been in competition with each other.
EU Commissioner for Competition, Margrethe Vestager, said she was sending a clear message to companies that cartels are not accepted.
"The prodcuers discussed their envisaged gross list prices increases for medium and heavy trucks. Simply speaking, these gross list prices are the basis for the prices in the truck industry. what the truck producers did was to coordinate with each other on increasing this gross list price of trucks," she explained.
Volvo/Renault, Daimler, Iveco and DAF acknowledged their involvement.
MAN – who blew the whistle on the others – was given immunity and escaped a €1.2 billion fine.