John Kerry urges Turkey to "respect rule of law"
Comments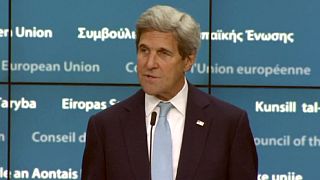 The US secretary of state John Kerry has joined EU foreign ministers at a meeting in Brussels on Monday.
They will discuss the Nice attack and the attempted military coup in Turkey. There are not expected to be any formal discussions about Britain's EU exit.
Kerry called on Ankara to exercise restraint following the failed coup. Thousands of people have been arrested in Turkey since Friday in a government crackdown.
"We firmly urge the government of Turkey to maintain calm and stability throughout the country and we also urge the government of Turkey to uphold the highest standards of respect for the nation's democratic institutions and the rule of law," Kerry told a press conference.
The EU's Foreign Policy Chief, Federica Mogherini also warned against any attempts by Turkey to reintroduce the death penalty.
"No country can become a EU member state if it introduces the death penalty, that is very clear in our 'aquis' as we call it. […] this is no excuse to take the country away from fundamental rights and rule of law and we will be extremely vigilant on that," she said.
Euronews correspondent in Brussels says John Kerry is also in the Belgian capital to discuss the final phase of the Obama administration, particularly the refugee summit that the US President is organising on the 20th September, a day after a special United Nations meeting about refugees.