Slovakia takes over EU presidency amid Brexit fallout
Comments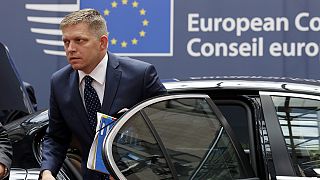 The United Kingdom's vote to leave the European Union will dominate the bloc's agenda for the rest of the year, Slovakia's prime minister said on Friday.
The Slovak government has just taken up the six-month rotating presidency of the EU; the task no longer enjoys the power it once did, but it gives a country the chance to frame the policy agenda.
"We admit that migration and Brexit will have this considerable influence on the Slovak presidency," said Robert Fico, the prime minister of Slovakia. "But could I emphasise: at the same time the government of the Slovak republic wishes to be an honest broker on the subject of migration."
Slovakia has been a staunch opponent of the European Commission's proposals to solve the continent's refugee crisis, which include a mandatory quota system to 'redistribute' migrants.
But the frontrunners in the race to lead Britain's Conservative party and become the next PM say they are in no rush to formalise the country's exit from the EU.
That has angered senior officials in Brussels, including Jean-Claude Juncker, the head of the European Commission, the EU executive responsible for proposing legislation.
"There will be no negotiation whatsoever before notification and we invite the British authorities to make its intention clear," said Juncker.
The former Luxembourg premier also repeated his warning that Britain could not get preferential access to the EU's single market if it did not accept free movement of people.
But that will likely anger many 'Leave' voters, who oppose the current levels of EU migration into Britain.