The European battle over the herbicide known as glyphosate
Comments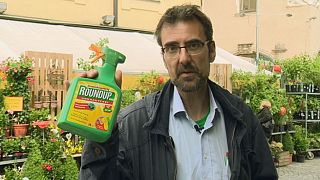 Update: With EU Member States failing to reaching a qualified majority about the re-approval of glyphosate the Commission extended, on June 29, the approval of glyphosate until the end of 2017.
There is negative activity and a major campaign against glyphosate.

Spokesperson for Monsanto
Standing in a corn field in Germany there are no weeds or wild flowers. It is treated with glyphosate, a broad-spectrum systemic herbicide and drying agent.
Currently in Europe, manufacturers of glyphosate prepare for another battle: they have asked to have their European Internal Market licence renewed. Initially, the European Commission proposed 15 years for sale – but EU States have only agreed on interim solutions.
It's a heated debate about the future of European agriculture, health and biodiversity.
Hans von der Brelie: "Well, looks impressive… A field not sprayed with glyphosate and it's a sheer riot of colours."
We meet Michael Rubin, who makes a living raising goats. Neighbouring farmers have used glyphosate on their fields. On a windy day, sprayed weed killer can land on his farm.
Michael Rubin, goat farmer: "Have a look yourself: this is my hayfield, some 16 to 17 hectares. It is surrounded by cornfields treated with herbicides."
Today, 108 goats wait to get milked. The farm produces meat, milk, cheese – and even goat ice cream. The business had a good start 18 years ago – however, when the Euro was introduced, benefits halved. Rubin and his animals survived. But then came the glyphosate spraying, allegedly killing 34 goats.
Michael Rubin: "It happened shortly before the rapeseed colza harvest. In our region the colza is sprayed to death. My animals were harmed because at the very moment the colza was treated with glyphosate, they were exposed to the toxic mist. They got cramps, they got diarrhoea, they died within days."
Berlin is a battleground again: while center-right parties are in favor of glyphosate, center-left-wing parties oppose a renewal of the European glyphosate licence.
The International Agency for Research on Cancer classified glyphosate as "probably carcinogenic to humans".
Euronews met with a spokesperson from glyphosate producer Monsanto.
Thoralf Küchler, spokesperson, Monsanto: "There is negative activity and a major campaign against glyphosate. The European Food Safety Authority (EFSA) issued a positive security assessment. Based on that, no other decision can be taken but a renewal of the glyphosate licence for the EU market – and I am confident that, in the end, this will happen."
We move to the southern German region of Bavaria, governed by the conservative CSU party.
Across Germany, weed killers containing glyphosate are not just used in agriculture, but also in public parks and for private gardening. Some 5,500 tonnes of glyphosate are sold in Germany each year.
Hans Von der Brelie: "Well, glyphosate – such as Roundup and other brands – is sold almost everywhere. You can buy it without difficulty."
Forty percent of German fields are treated with the weed-killer, from where it moves into water and the food chain. Karl Bär works for the "Munich Environmental Institute": http://www.umweltinstitut.org/english.html. He proofed the presence of glyphosate in the most popular beer brands – all of them contain the herbicide.
Karl Bär, Munich Environmental Institute: "I have some precise doubts. I suspect the European Commission will make arrangements with the producers in order to push through the reapproval of glyphosate. There is a problem: the studies handed over by the producers to the (European) institutions are treated like business secrets. It is not those protesting noisily who lack credibility… The lack of credibility is elsewhere: those researchers getting money from people producing this stuff to be decided on, they lack credibility."
In Berlin we have an appointment with the vice president of the German Federal Institute for Risk Assessment, an agency financed by the government but which stresses its scientific independence.
After having issued a pro-glyphosate opinion, managers received death threats from people against the use of the herbicide.
Assessing the validity of glyphosate studies, the Institute acts as a referee.The European Food Safety Authority (EFSA) based their glyphosate-friendly recommendation on the Berlin findings.
Reiner Wittkowski, vice president, German Federal Institute for Risk Assessment: "Glyphosate in mother's milk, for instance, or glyphosate in beer – those are not scientific studies, they are not matching the required quality levels. This blame goes also for those studies pretending (glyphosate-triggered) malformation (of fetuses) and so on… from a scientific viewpoint they are not valid. Every substance has to be used in an appropriate way: when you drink your hair shampoo, this would not be an appropriated use… and you would not feel well afterwards."
Off-camera, scientists working for the risk assessment insitute accuse glyphosate-opponents of "Facebook-Science". One has to drink 1,000 liters of beer a day to reach the maximum glyphosate threshold.
Let's hand over the question to the environmentalists: Are they stoking fears?
Karl Bär, Munich Environmental Institute: "I do not want to stoke fears. I accuse the German Federal Institute for Risk Assessment of smart PR spin-doctoring. This one-thousand-liter-argument seems to hold up because this Institute exclude all scientific evidence that glyphosate could trigger cancer and that it is an endocrine disrupter. But we are talking about a substance that probably causes cancer. European law says that carcinogenic substances have to be minimised. And regarding pesticides: causing cancer is one of the three cut-off criteria we have in Europe."
The scientific community is split, so are the politicians. Several times EU Member States have postponed decision-making on the topic. Governments are getting nervous about a public opinion moving towards glyphosate-critical viewpoints..
Hans Von der Brelie: "Once you start digging into this story, you'll get a kind of feeling that all this is not just about science – but about politics. So, let's have a talk with the politicians…"
Harald Ebner is member of the German parliament and a Green Party Member. He is one of the most fervent opponents of weed killers such as glyphosate. According to Ebner, the governmental Institute for Risk Assessment is turning a blind eye on studies proving the cancer risk
Harald Ebner, Member of the German Bundestag, The Greens: "In their report, the German Federal Institute for Risk Assessment mentions 1,200 studies that had to be assessed – but they admitted having copied of 850 of those studies, including their assessment results formulated by the applicants, the producers. This is, to put it mildly, a scandal. At the moment, a readmission of glyphosate is not acceptable: there is still the pending danger of cancer-risk…"
Reiner Wittkowski, vice president, German Federal Institute for Risk Assessment: "All the existing studies, all the existing knowledge, was used and analysed for our assessment, really everything… we checked all evidence. And now we know the result: glyphosate is not causing cancer."
Ariane Failer is a Saluki dog breeder in rural northern Germany. After chatting with a neighbour, she learned that the farmer was treating his plants with the weed killer Roundup.
Her dog Manoush is suffering from cancer, and it's not an isolated case.
Failer started her Saluki breeding in 1992. Some years after having moved to the countryside, the cancer-triggered death rate rose sharply. So far, twelve of her dogs have passed from cancer.
But there is still one scientific input missing: the European Chemicals Agency need another year to conclude their glyphosate assessment.
Ariane Failer, Saluki breeder: "There is just ten meters between the property line and the enclosure for my dogs. It is unavoidable that the wind carries glyphosate to us… We cannot do anything.
"She had been operated on the lower milk line to remove tumours, but they came back. Two of them you can see: cancer is growing there… and there. Four tumours on the same milk line."
It is not always at it seems to be: Saluki dogs are known to suffer from high cancer rates. On the other hand, Ariane Failer traced the bloodline of all their Salukis back to 1920 and stresses that there was no cancer cluster before she moved here. She strongly feels that glyphosate should stop being used for commercial purposes.
Ariane Failer: "When everything follows nature's rhythm, birth and death are both part of normal life. Somehow, dying is ok then. But early death triggered by glyphosate, that's not ok.
"I still remember the death of Bushur. He was stretched out, his snout was covered with saliva and blood. The veterinarian worked on him with a cardiac massage, I did a mouth-to-muzzle blowing, I tried to get him back to life. Then Bushur cried out a last time… then he was dead. He had not even reached the age of two. We do not have the right to poison their lives."
Live updates from our Insiders team