Abortion in Malta: studio interview with reporter Valérie Gauriat
Comments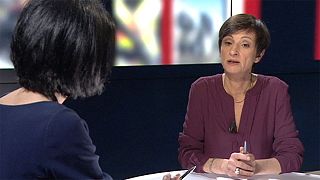 Insiders Editor-in-Chief Sophie Claudet interviewed reporter Valérie Gauriat about her report about abortion in Malta.
Sophie Claudet: "Valerie, you're just back from Malta. We saw in your report how difficult it is for people to talk about abortion. How did you convince the women who went through the procedure to talk to you?"
Valérie Gauriat: "It wasn't easy at all, it took a lot of reassurance, a lot of conversations over the phone, by email, on Skype, on Facebook. They really were scared to speak. Of course it's difficult for any woman to talk about abortion, whether it's legal or not. The first thing we had to do was to take a written commitment for us not to reveal their identity, and that was reassuring.
"On the other hand, they wanted to talk, they wanted to share their experience, and the fact that I was a foreign journalist working for an international network made it easier for them. Paradoxically they could tell the world about an experience they couldn't even talk about to their own mother or sister."
Sophie Claudet: "So you mean for some of them it was actually the first time they talked about the procedure openly?"
Valérie Gauriat: "Indeed, it was. The lady who spoke to us who had an abortion in her 40s hadn't told anyone. There was another woman that we were in touch with who lives abroad who isn't in the report. She had agreed to talk to us, again on condition of anonymity because her partner didn't know about it."
Sophie Claudet: "But how about this doctor you interviewed in your report? She's not even a gynecologist and yet she too did not want to appear on camera. How come?"
Valérie Gauriat: "Indeed she's not a gynecologist but she explained that even speaking about abortion in a way that implies that you're in favour of at least an easing of the ban would be risky for her. She could lose her licence and, at the very best, she could lose her reputation and her patients."
Sophie Claudet: "And performing or supporting an abortion actually carries a penalty."
Valérie Gauriat: "You can risk up to four years in prison if you perform an abortion, and even advising women or assisting them in any way for anyone in the medical profession carries some penalties."
Sophie Claudet: "Considering that women have to carry their baby to term, because there is a blanket ban on abortion, are they still screened during their pregnancy?"
Valérie Gauriat: "Of course they are. Malta is a very developed country and the have all the usual tests that any other country has: the ultrasounds, the scans and so on. You can have amniocentesis [also referred to as amniotic fluid test or AFT] if you want to, however I was told that in some cases they just don't bother because there is this ban on abortion, or [because] it's beyond their beliefs and understanding."
Sophie Claudet: "Valerie, considering that in Malta women can not have an abortion, does it mean that there is a higher prevalence of birth defects compared to other European countries? "
Valérie Gauriat: "Well this is actually what the official figures show. Prevalence of what are called neural tube defects (NTDs) is the highest in the EU. Also for Down syndrome, Malta is ranked second, just after Ireland and before Poland, which happen to be the countries where the abortion laws are the most restrictive. The surveys also make a clear link between the fact that abortion is banned and these high birth defect rates."
Live updates from our Insiders team