MEPs warn Turkey over visa deal
Comments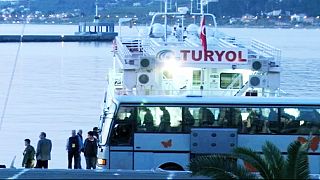 MEPs have warned Turkey that they won't just rubber-stamp a deal to give the country's citizens visa-free travel in Europe.
The debate took place on Thursday at the European Parliament in Brussels.
The offer formed part of an EU migration deal with Turkey to stop migrants reaching Europe's shores.
Brussels offered money for refugees in Turkey and to scrap visas for Turkish citizens.
But EU governments still need to give the final green light.
"Visa liberalisation (can) come when the conditions are met. Full stop. And when the conditions are not met anymore. It will be canceled again," said Elmar Brok, a centre-right German MEP.
"My group is in favour in principle of visa liberalisation but do not expect rubber-stamping exercise from our side. Because if the Turkish government intends to convince parliament to vote for visa liberalisation, cracking down on journalists is not a very good strategy," said Sophie in't Veld, a Dutch Liberal MEP.
The European Commission will publish its assesment on whether Turkey has met the EU executive's 72 benchmarks next week.
Jean-Claude Juncker, the head of the commission, said last week that there would be no compromise on those criteria.