Silent screaming - suicides and meds blight French prisons
Comments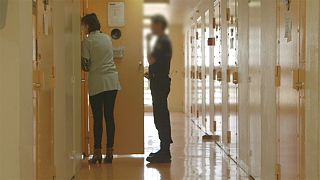 Suicide rates in French prisons are almost double the European average.
The prisoners were saying to each other, 'See the doctor! He'll give what you want!'
The latest data from the Council of Europe, in a report published in December 2015, shows that the rate in France was 12.4 suicides per 10,000 inmates in 2013. The median rate across the European Union was 5.4 suicides per 10,000 inmates.
Suicide is seven times more frequent among prisoners in France than in the general population, the French Institute for Demographic Studies found in 2014.
'My brother was never a drug user – until he went to prison'
Rahma Zennati's brother Morad died in 2010 after an overdose of psychotropic drugs.
Morad, who was 31, had been serving a two-year sentence for marijuana possession at the Maubeuge prison in northern France. He was just months away from being released.
A claustrophobia sufferer, his downward spiral started quickly when he went to jail.
"I went to see my brother in prison and I saw someone 1.9 metres tall, 120 kilos, in a wheelchair. Without being a doctor, I could tell there was a problem somewhere," Rahma says.
Rahma explains that she was told by the prison that her brother "was a manipulator who cried all the time. That we should not worry."
After the overdose, Morad was sent to hospital, where Rahma found him on a respirator and having seizures. He was in handcuffs.
"There's a policeman and other people in the room," Rahma says with tears in her eyes. "I go to the police officer, and say, 'You really think he's going to try to escape?'"
"Above all, I can't stop looking at the respirator. He (Morad) convulses again, he's still handcuffed."
Rahma says Morad was not a heavy drug user before he went to jail. She feels that the prison system let her brother down.
He "couldn't bear incarceration," Rahma explains. "He never took benzodiazepines or anti-depressants at home."
"My brother was never a drug user, until he went to prison. It's clear that the prison medical service gives out medication to make prisoners better withstand incarceration."
After Morad died, Rahma was shocked to find a "cocktail" of prescription drugs amongst his possessions when she went to collect his things.
"There were all these little bags. 10 or 15 Valiums, 10 Imovan with Xanax. A mix of benzodiazepines, neuroleptics, antidepressants, sleeping pills," she says.
"Is all that not enough to be fatal for a person?"
Rahma and her family have launched legal proceedings against the prison and the hospital, which they blame for failing to adequately protect Morad's life.
'See the doctor! He'll give what you want!'
We visit the Longuenesse prison in northern France for an insight into how drugs are dispensed.
Every inmate is seen by a psychiatrist when they arrive.
Those considered to be a suicide risk are given specific prescriptions every day. They have to take their pills in front of a nurse.
For those inmates that require medication but are not considered a suicide risk, bags of drugs are dispensed to last them three days.
But the pills may not stay in the same hands – as drugs are a major bargaining chip in prison, something to trade.
Another risk is depressed inmates asking for more medication and then storing it up to overdose on later.
2015 was a very worrying year for that at Longuenesse. Psychiatric nurse Caroline Penet explains that the medical staff could have contributed to the problem.
Penet explains that the doctors kept on changing, sometimes only staying for a couple of weeks.
"And there are some (doctors), less conscientious perhaps, who give out prescriptions more easily at the request of prisoners," she says.
"If we could see the infirmary numbers of the time (2015), I think we would see that there was a greater influx (of inmates coming to the infirmary). The prisoners were saying to each other, 'See the doctor! He'll give what you want!'"
Crumbling infrastructure, overcrowding & prescription drugs are blighting Europe's prisons https://t.co/jTpjgoluykpic.twitter.com/MQQqIhUac4

— Euronews Insiders (@euronewsinsidrs) April 20, 2016
'I believe there will be more and more'
One Longuenesse inmate, who does not want to be identified, opens up to us about his concerns regarding what he sees as the growing number of mentally vulnerable people behind bars.
"We didn't use to see so many people like that, mentally fragile and with certain types of crimes. They used to be in psychiatric hospitals," he says.
"But it costs more to put someone in a psychiatric hospital then to send them to prison. So, yes, I've seen more. And I believe there will be more and more (mentally ill people in prison)."
'Not where they belong'
Veteran psychiatrist Cyrille Canetti says the whole approach needs to change towards mental illness among people who break the law.
Looking at the suicide rates in prisons, "it makes me think that France is not doing well," Canetti opines. "We get rid of, let's say, 'embarrassing' people in prison, without wanting to really see what is going on."
"I think especially for the mentally ill – the number of which in prison has been rising rapidly because mental patients are being excluded from society – they are being regarded more as dangerous people, rather than people who are suffering. So, there is more of a tendency to send them to prison, which is not where they belong."
Latest updates from our insiders team
​