MEPs scrutinise EU-Turkey migration deal
Comments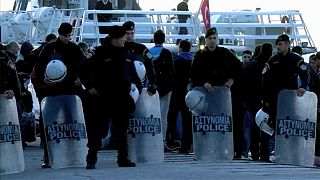 The EU's deal to send migrants back from Greece to Turkey
For every Syrian migrant sent back, one already in Turkey will be resettled inside the EU.
Human rights groups say the deal is illegal under international law.
They also caution against striking an agreement with an increasingly authoritarian Turkish president.
Recep Tayyip Erdogan summoned the German ambassador over a satirical show that poked fun at him.
"I simply cannot understand that a German ambassador should be summoned over an admittedly outrageous satirical song," said European Commission president Jean-Claude Juncker.
MEPs on Wednesday also discussed Ankara's long-standing EU membership bid amid a promise of renewed momentum as part of the migration deal.
"We also have to pay attention to what's happening inside of the country, as this is all inter-related: the issue of the Kurdish question, what's happening in the south-east of the country and of course the very delicate matters of press freedom," said Kati Piri, a Dutch centre-left MEP
Since the start of last year, one million migrants and refugees have entered the EU by boat from Turkey to Greece.