Misery for migrants amid Italian reception swindle
Comments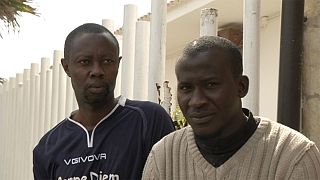 It's called the Orange Tree village. Set in the Sicilian plain, near the town of Mineo, it once hosted American soldiers.
They are all making business with us here. They do not talk about our health issue. They do not talk about our money issue. They do not talk about our work problem.. Everything is closed here. We are here in the darkness.
Circled with barbed wire, the compound has become the largest centre for refugees and asylum seekers in Europe
One could almost believe that it is a holiday resort. But the place is known to have packed up to 4000 asylum seekers. And this centre in Mineo is also at the heart of a huge corruption scandal.
Targeted in an investigation last year that led to the partial dismantling of the crime ring known as "Mafia Capitale", the centre is now under judicial administration.
The cooperative of private firms running the services of the centre is accused of being linked to the Roman Mafia, and unlawfully obtaining the 100 million euros public tender contract to operate the facility.
Funds meant for the asylum seekers have also allegedly been diverted.
Like many of those we meet here, that's not what David Tiéhi wants to talk about. He arrived here three months ago, after fleeing persecution in the Ivory Coast.
He says the safety he found in Mineo is priceless: "Back in my country I have no more relatives. My father was killed in front of me, like a chicken to sacrifice..I don't like to speak about that … If tomorrow I'm sent back, what will be my fate?"
Many residents have been waiting for months; sometimes even up to three years, before their asylum application is dealt with. That's what's hardest they say.
Few want to talk about the malfunctioning centre for fear of being expelled. But a few tongues do loosen up.
"They rescued me from the Mediterranean sea, yes, we know that. But the money they are giving us is not what they are supposed to pay us. It's one euro 50 cents, instead of 2.50 euros. And they are giving us rice every day," said one woman.
"The question I keep asking is why they are delaying our documents? Why? We are waiting, year after year, all the time! And there's no work, nothing!" another woman told euronews.
35 euros per day per person, including 2.50 euros for pocket money; that's the amount allocated by the state to the cooperative that manages the centre, to provide housing, food, psychological and medical care, and Italian classes.
But off camera, the asylum seekers say the reality is different.
We have an appointment with the chief prosecutor handling the investigation into the management of the centre in Sicily. Giuseppe Verzera says there are still many gray areas to uncover:
"We proved that many of these immigrants, although they are no longer in the centre, are still registered there. That means huge sums of money were allocated for services which were not performed.
The scams revealed by the Mafia Capitale scandal are thought to be only the tip of the iceberg. According to the judge in charge of the national anti-corruption authority, the phenomenon has spread throughout Italy.
"We are still working on cases in Campania. For example, the Naples investigation showed that owners of the centres diverted what is called the asylum seekers pocket money. Money meant to be dedicated daily to migrants was distracted for personal use," explained Raffaele Cantone, head of Italy's National Anti-Corruption Authority.
We head for Naples, in the Campania region. N'Dabosson Clément Ekomano came from Ivory Coast more than a year ago. He is still waiting for an answer to his request for refugee status.
Last summer, with other asylum seekers, he denounced the conditions in which they were living.
Overcrowding, poor sanitation, non-existent services, the footage shot by the residents of the Villa Angela caused a stir in Italy.
But their rebellion only earned them a place on the streets.
After a month of battling, with the help of the anti-racist association 3Febbraio, the group was relocated in decent reception centres.
Clement continues to fight alongside the Italian activists.
His fate has improved, but abuses continue in many places he says: "I visited friends in other centers, it's just unspeakable. Some sleep on the floor, their clothes lay on the ground. There is no hot water. They can't wash, they smell bad. They have nothing. And they can not talk because if they speak out they'll be thrown out. So the situation has not changed at all."
We could not gain access to the centres in question. But the mobile phone pictures sent to us by asylum seekers are telling.
Abuses that have led to the closure of a dozen centers in Campania last February.
The 3Febbraio anti-racist activists take us to a derelict tourist area near Naples, known for the strong presence of the Camorra.
Run down hotels line the road for miles.
Civil rights activist Ettore Scarmarcia, from the Interethnic Anti-racist Association 3Febbraio said: "Over the years, with the strong presence of organised crime, things degraded, and these hotels were gradually abandoned. Many owners decided to convert these structures into reception centers."
Here too, many abuses were reported, and several of these improvised centres were closed. But the area still has the strongest presence of asylum seekers in the region.
"These are structures made to host small numbers of people, and they pack them in as much as possible. The more people they fill in, the more money they make. A lot of the services that should be provided are not, so they are also making money on services that are not provided to immigrants," said Scarmarcia.
Our investigative team tried hard to enter one of the hotels.
After a lot of persuasion, a group of asylum seekers agreed to talk and show our reporters inside. But the manager, Nicola Licardo, refused to let them in, refering us to the company that contracted him.
"We give them shelter, we feed them, we give them what we can give them. We're not making business out of them, that's not my problem. Go ask the company that brought them here about that. Me, I do it only to help them. I did it because I wanted to do, full stop!" said Licardo.
The residents are exhausted. The wait for a response to their asylum applications is endless.
Officially, the local authorities can't cope with the numbers.
But many accuse some officials and centre managers of making money out of the delays..
Gambian asylum seeker Ebrima Kanteh said: "Every day is hard. There are 103 people here, They only gave three people documents. Why that? Why that? We are here one year and seven months, without our documents. How come? They are all making business with us here. They do not talk about our health issue. They do not talk about our money issue. They do not talk about our work problem.. Everything is closed here. We are here in the darkness. "
"In Naples, we met activists from the Interthnic Anti-Racist Association 3Febbraio, who took us to derelict Licola area, where forlorn asylum seekers are packed in run down hotels turned into reception centres. Pictures courtesy Fabio D'Auria."
"Clement Ekomano is an ivorian asylum seeker who led a protest against poor conditions in reception centres in Naples last year, supported by 3Febbraio anti-racist activists. Photos courtesy Fabio D'Auria"

Latest updates from our insiders team