Boom times for Turkey's lucrative smuggling rings
Comments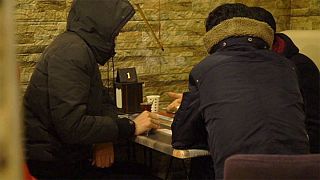 Aksaray district in Istanbul is the place where many asylum seekers go to find smugglers to travel to Europe.
They promise us today or tomorrow, and the weather is bad but all these are just words, a scam. There are many people here who have been scammed for 15,000 dollars
Abu Khaled is a smuggler from the Syrian city of Dara'a. He oversees a network of 15 smugglers and brokers who take migrants by land to Greece and Bulgaria.
Abu Khaled, who asked for his identity be concealed, is meeting one of his brokers who brought him a migrant that wants to travel to Greece.
If the price is right…
"I want to go, me, my wife, my 4 children, my brother and his wife and their 2 children," says the migrant.
"We can take you from here to Istanbul till the border, and you will not walk more than 2 hours maximum," says the smuggler, making it sound easy.
"What's your final price?" says the desperate father.
"We calculate it's 2,300 euros".
"But for the children it shouldn't be so much. I have sold my wife's jewelry and my brother's as well to able to migrate," he says, trying to haggle.
"Ok, Ok, for the children it's impossible, I told you I deduct only the children under 2 years old. When you
make sure you have arrived in Greece and that you will not be sent back then let me know, from thereon,
you're on your own."
*A dangerous business*
Abu Khaled refused to elaborate on his ring of smugglers for security reasons
"No one can detail his work. Smugglers can't give information about my work, it's bullshit, then I will
be arrested." His broker chips in:
"You can't film, it's not fair, you are doing something illegal. If people see that, they'll say he wants his own demise. Even if only his voice is recognizable, because here the police can arrest you for even tiny things. Plus, people will wonder how much money he
makes from smuggling."
In 2015, it is estimated that criminal networks behind #migrantsmuggling made a EUR 3-6 billion profit #migrationEUpic.twitter.com/yaOoaW2sSX

— Europol (@Europol) February 24, 2016
A long waiting game
Basmane district in Izmir is full of migrants who are waiting for the weather to get better and a quiet sea to travel to Greece.
Basmane Mosque is one of the meeting points between smugglers and migrants, Abu Mohammed and his family came from Raqqa, a stronghold of the so-called Islamic State in Syria. He is sleeping here at the mosque until he manages to migrate to Europe.
"I have two disabled children, twins and I would love to migrate with them for treatment," he says.
In Izmir brokers openly roam the streets touting for trade, searching for migrants to smuggle them by boat to Greece.
Abdu, a Syrian from Damascus, is one of these brokers and he approached Abu Mohammed to help him migrate.
"For each person I will take 550 US dollars," says Abdu, starting the negotiation.
"But others take less than 550," says Abu. "We wish you could help and give us a discount." Abdu digs his heels in.
"I swear, others take 700 dollars, the money doesn't go to us, it's for the boss. Do you understand? We pay for other things, hotel, costs of the rubber boat, everything is well organized. If the weather is good
we will smuggle you, but if not, we don't want to risk it, We put 35 people in the rubber boat. About the
money, where do you want to keep it?"
"We can deposit it in an office?" suggests Abu.
"It could be an office or with any of your relatives," offers Abdu.
[INFOGRAPHIC] Get to know the criminal infrastructure of #smuggling networks. #Migrantsmuggling#MigrationEUpic.twitter.com/6Js7uSxdUI

— Europol (@Europol) 24 février 2016
With such large sums of money and so many people willing to pay, Abdu must be making a killing from the business, we suggest. Far from it, he moans.
"I get 25 dollars for each person and the biggest amount goes to the biggest smugglers. Most of
the smugglers are Turks and then Syrians. The big cheeses stay behind doors. If smugglers admitted to what they do, they'd go to prison. There are a lot of controls and we face a lot of difficulties in smuggling."
However our journalists saw no police checks that day. Instead we followed Abu Mohammed and the broker to a Turkish shop where migrants can deposit their travel money until they reach their destination. The owner, a Turk, explained to us how the system works.
Unsure banking business
The shop owner explains that Abu can deposit money using his name or a code, and that he will only release the money to a broker if he presents either Abu's name or the code number. He shows Abu an
example of another man who had previously
deposited 6,300 dollars, his name, a mobile phone,
and a code.
euronews:
"If he doesn't make it to Greece, Does he get back all his money?"
Shop owner:
"If he comes back, the money is here, no problems after 50, 40 or 30 days you can take it back."
Abdo adds that the money is kept in shops or offices, but if the customer doesn't want to leave it in there, he can leave it with relatives.
"Then he calls them when they arrive safely in Greece, and tells them to give the money to the smuggler. If he doesn't reach Greece, he lets us know and we don't get the money." It all sounds very safe.
What the broker will not tell us is what happens to the money if the migrants die at sea.
A seller's market
"We have seen some smugglers who asked for 600, 700, 550 Dollars. They promise us today or tomorrow, and the weather is bad but all these are
just words, a scam. There are many people here who have been scammed for 15,000 dollars. One was swindled out of 20,000 Dollars," recounts Abu.
As we left Izmir, Abu Mohammed was still waiting to find a smuggler he could somehow trust with the safety of his family without being scammed out of his savings. Between the danger of risking one's life at sea and losing one's life savings, thousands of migrants continue to fall prey to unscrupulous smugglers.
By Ahmed Deeb
Latest updates from our insiders team