Belgium's PM rejects Europe's 'weakest link' label in fight against terror
Comments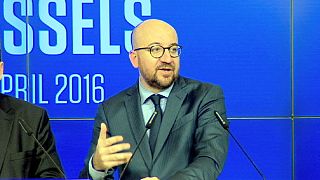 Belgian Prime Minister Charles Michel has rejected accusations that Belgium is Europe's weakest link in the fight against terror.
"I don't accept this idea of a very weak country. Other countries have faced this drama and the tragedy of attacks. In those countries, there was also the ability to learn lessons and draw conclusions. We should do that, too, in Belgium.
"In the fight against terrorism, in all countries in the world and in Europe, there have been successes and there have been failures," said Michel.
He added that Belgian security service had succeeded in preventing many attacks, pointing to an anti-terror operation in the town of Verviers in January 2015.
"If we were weak, then we would not have been able to convict 100 persons," he said.
Belgian authorities have faced questions about the efficiency of their security services after it emerged that officials had failed to act on a number of tip-offs.
Michel was speaking at a press conference in the Belgian capital alongside the leader of the Brussels regional government, Rudi Vervoort.
Vervoort said that the Brussels metro network should return to normal service next week.
Thirty-two people died in the attacks on March 22nd, which were claimed by the Islamic State group.
Three bombers were also killed when they attacked the city's main airport and a metro station in the heart of the European district, which is home to the EU institutions.