EU plans new aid scheme to help Greece with refugees
Comments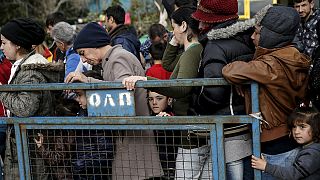 The EU plans to launch a new refugee aid programme as Greece struggles deal with the influx of migrants to its shores.
The UN has warned that there is a risk of a humanitarian disaster owing to the sheer number of arrivals.
If the plan is approved, officials said the EU would be offering up to 700 million euros over the next three years.
It is the kind of package that is usually used to help developing nations outside the EU's borders.
"Today's proposal extends the instruments the EU has at its disposal to cope with the crisis," said Christos Stylianides, the European commissioner for humanitarian aid.
"The proposal doesn't focus on any specific country but we all realise that the country facing the most severe humanitarian crisis in terms of refugees today is Greece."
It would be the first time that EU aid agencies would work inside the bloc.
EU leaders will discuss the plan at a forthcoming EU summit on migration on March 7.
More than 20,000 people are without shelter inside Greece now, while some eight thousand are waiting to cross over the border into Macedonia.