EU's Tusk kicks off shuttle diplomacy tour as Brussels seeks to save Schengen
Comments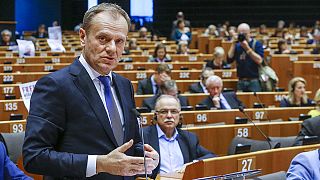 The president of the European Council, Donald Tusk, has kicked off a week of shuttle diplomacy as the EU seeks to get a grip on the refugee crisis.
EU leaders will meet once more in Brussels on March 7th with Turkish officials to assess whether Ankara is keeping to its side of a three-billion-euro deal agreed last November.
gs to prepare for an EU summit on March the 7th.
The EU's border-less travel zone, known as Schengen, has been in disarray for months as governments across the continent grapple with the influx of migrants from the Middle East and Africa.
All this amid political pressures at home; a number of anti-immigration parties are riding high in the polls, forcing some leaders to act.
The first stop for the former Polish prime minister was Vienna, where the government has reintroduced border checks to stop the flow of people heading north.
"We must face together the humanitarian consequences of our decision. The country which we must support in particular is Greece," said Tusk.
"The number of migrants arriving in Greece is on the rise not because they want to make Greece their home, but because they are hoping that from Greece they will move to other European countries."
Austrian Chancellor Werner Faymann brushed off criticism from Brussels, saying that "Austria is not a waiting room for Germany."
"Austria has always said that we are against a policy of waiving-through."
Tusk will also hold talks with governments across the Balkans region.
Refugees and migrants have been using that route to make their way north.
But the Greek-Macedonian border is now closed, leading to repeated clashes with security forces.