Protests as fresh round of TTIP trade deal talks begin
Comments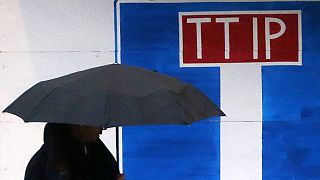 ​A handful of Greenpeace activists tried to blockade the venue where EU and US negotiators met for trade talks on Monday (February 22).
Brussels and Washington are discussing a free trade deal that governments say would increase the size of the EU economy by 0.5 percent of GDP every year.
Opponents believe it will lead to a race-to-the bottom on consumer protection.
Saskia Richartz, deputy director of Greenpeace Europe, said: "Greenpeace has blocked EU and US negotiators from discussing a trade deal that threatens democracy, our environment, social standards and working conditions.
"In fact, this trade deal is not at all about trade. It's about transferring powers from the people to big business. what they call barriers to trade are in fact safeguards that protect our air and food from being poisoned."
Those claims have been repeatedly denied by EU and officials.
Both sides hope to reach a final agreement on the text by the end of this year.