U-Talk goes to the (European) movies
Comments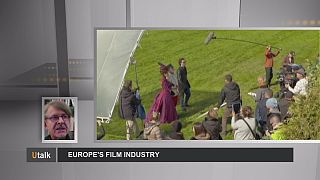 This week on UTalk, the question comes from Léa in Paris:
"A few days ahead of the Oscar ceremony which celebrates the US film industry, how is European cinema doing?"
The answer comes from Claude-Eric Poiroux, the General Director of Europa Cinemas.
"In 2015, attendance in cinemas went rather well across Europe. On all markets, the sales of cinema tickets increased by 5 % last year across all countries and all movie types. This is quite good news for cinemas which have to compete with other distribution platforms such as VOD, (Video on Demand), and pirated product.
Europe produces around 1,500 movies every year. The difficult part is how to make them with cross-border appeal. How to export them ? And here, indeed, there is room for improvement, we've got to learn how to diversify.
However today, 3 European films are among the 5 Oscar nominees in the "Foreign Language Film" category.
So I think we should stop depreciating ourselves all the time. In Europe, we have got a lot of movie theatres which offer different types of films. Some offer 80 % of American blockbusters while others try to show more independent films and they are doing pretty well.
And this is this kind of film programming, independent and geographically diversified, that we must continue offering and supporting because this is what the audience is expecting."
If you would also like to ask a question on Utalk, click on the button below