Dreaming of Britain - Calais migrants don't give up hope
Comments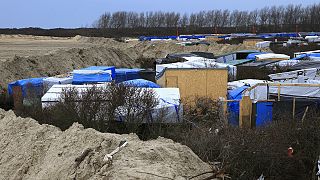 As EU leaders set their sights on trying to reach a deal to keep the UK in the bloc, refugees in Calais are still longing to reach British shores.
A refugee camp close to the French port is home to some 4,000 people. Many of them have come from the Middle East and Africa.
But locals have been calling on politicians to act, saying the infamous, "Jungle" is ruining the town's image, conditions are squalid and the camp has been described as a humanitarian crisis.
"Personally speaking, when I come to this camp, I have the impression that I am in another country. That I am somewhere else but not in Europe," said Alexandra Limousin of the Auberge des Migrants association.
"I have friends who ask me – you work there? It's irrational to know that we in West Europe and there are people who live in such conditions."
It has been used as a base for those refugees and migrants who want to reach the United Kingdom.
Last week, Fabienne Buccio, the Calais prefect, announced that one half of the camp would be evacuated and closed down.
"The time has come to move on, no one must live in the southern part of the camp, everyone must leave this section," she was quoted as saying last Friday.
Those affected – an estimated 1,000 people – are being encouraged to move on elsewhere or be relocated in temporary container housing.
The aim is to eventually cut the number of people living in the area to half of what it is now.
"The idea is to have a better organised camp, checked up on by an association which manages all the services which are offered to the people here and to reduce this space which is made up from makeshift shelters where they live in road, under the rain and snow," said Georgia Fayet, head of mission for Pas-de-Calais migration services.
A total of 1500 beds were made available inside the containers; there were 450 left when euronews visited the site on Wednesday.
Officials said that 81 migrants had decided to leave for other parts of France since the start of the week, although they stress that nearly 2,600 have made the same move since October.
But although some may have departed, they have been new arrivals since then. The conflicts and crises that affect these migration flows show no sign of abating.
Mohammed, a 40-year-old engineer, from Aleppo still dreams of a future in Britain; he says he has family already living there.
"(In) Syria – if the situation is getting better. Believe me – most of the Syrian people will go back. Because we need somebody to go and build the country again," he said.