Greece is given three months to tighten border controls
Comments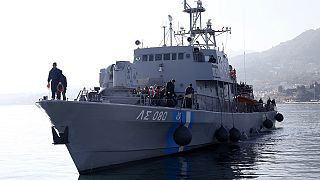 The EU is turning up the heat on Greece, giving it three months to fix serious holes in border protection.
In a bid to stem the influx of migrants, Athens is being told to implement 50 recommendations – to tighten frontier checks.
But to many, such a demand seems like mission impossible.
If Athens fails, it could trigger an unprecedented activation of rules, allowing member states to reimpose checks on internal Schengen borders for up to two years.
Sources say it is not intended to isolate Greece, but to ensure that controls elsewhere in Europe – including between Germany and Austria – can remain in place without breaking the law.
EU Migration Commissioner Dimitris Avramopoulos has praised Athens and Rome for a "spectacular" increase in how many arrivals they are fingerprinting, but said they were still falling short.
The arrival last year of over 1.1 million migrants, many of them refugees from Syria, has strained the passport-free Schengen zone to breaking point – with numerous member states reimposing temporary border checks.