Saving Schengen: MEPs call for stricter migration measures
Comments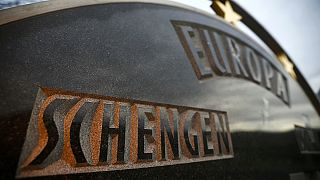 MEPs are calling for stricter migration measures to save the Schengen zone.
It is a turbulent time for the passport-free area. The migrant crisis has seen checks reintroduced on some borders, including just a few kilometres away from where politicians are meeting at the European Parliament in Strasbourg.
"If someone arrives in Strasbourg from Germany, they can expect to be stopped at this symbolic place called Europe Bridge and be checked by police," reporter euronews' Sandor Zsiros.
"Many people are afraid that the age of free travel inside the union might soon be over."
With the migrant crisis remaining on the EU political agenda, one Dutch MEP says economic migrants should be expelled, in order to maintain public support for people who are fleeing war zones.
"We can only keep this support for hosting refugees if next to that those people who are not refugees, who are economic migrants from outside of Europe are returned," said Kati Piri.
"We need to have a more strict policy towards migrants in order to able still host refugees in Europe."
Scores of migrants have headed for Europe. More than 60-thousand arrived in Greece by boat from Turkey last month alone.
One German Green MEP is highlighting the importance of border protection in the EU.
"We need to manage the outer borders: this is agreed and it should be developed as common responsibility," Rebecca Harms told euronews.
"Will we be able to seal our outer borders? Will we want to seal our outer borders? I would say no."