EU urges VW to compensate European 'dieselgate' customers
Comments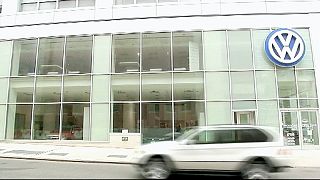 The EU executive has called on Volkswagen to compensate European customers affected by the firm's diesel scandal.
VW is offering compensation to tens of thousands of American owners, angry about "defeat devices" it used to masked nitrogen oxide emissions
The European Commission has no legal authority to force Volkswagen to do so, but it is trying to step up the political pressure.
"We need to have a full picture of the number of vehicles and models concerned, secondly we would like an update on the corrective measures that are planned by Volkswagen," said Lucia Caudet, a spokeswoman for EU industry commissioner Elżbieta Bieńkowska.
"She would like to emphazise once again the need for european consumers to be compensated fairly.'
Earlier on Thursday, Volkswagen chief executive Matthias Müller held talks with the European Commission.
A spokesperson said the company had agreed to share all necessary technical information.
Volkswagen has made a provision of 6.7 billion euros globally for the repair process.