EU's Mogherini urges world powers to broker Syria peace deal at Geneva talks
Comments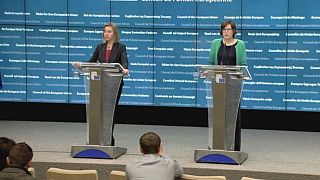 The EU's top diplomat urged world powers to seize the chance to end Syria's five-year conflict at peace talks in Geneva next week.
Federica Mogherini said the international community should focus on the humanitarian cost to ordinary Syrians.
"We tend to forget the humanitarian dimension of this crisis, we tend to play geopolitics around this, with the different interests of the world powers and the regional powers on it – but let's not forget that this is children, women, men, people, every single day in war," she told reporters in Brussels.
Mogherini told diplomats that the Iran deal shows diplomacy can work and that it can also work in Syria.
But German Foreign Minister Frank-Walter Steinmeier warned that the tensions between Iran and Saudi Arabia could scupper any potential agreement.
"The information we are getting from both states is that they want to continue playing a constructive role on the Syrian issue. But, if it continues to escalate, you can't control the dynamics of the conflict. Therefore we'll need to stay in touch with both capitals," he said.
The Syrian civil war has claimed more than 300,000 lives in the past five years.
The UN says more than ten million people have been forced to flee their homes.