EU orders Belgium to claw back extra taxes from major firms
Comments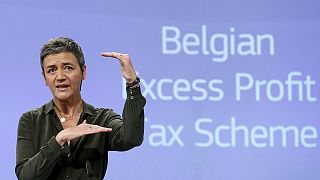 EU regulators have told Belgium to claw back 700 million euros in extra taxes after they ruled 35 multinationals had benefitted from an illegal tax break.
The European Commission said that Belgium's so-called 'excess profit system" allowed only a few large companies to get a tax discount.
Under the Belgian scheme, multinationals could reduce their corporate tax bases by between 50-90 percent due to profits arising from, for example, economies of scale, which were not liable to tax in Belgium
Officials said this distorted the EU's single market; some journalists asked whether this means Belgium should be considered a tax haven.
"I don't really know what is a tax haven is. To me a tax haven is a place where everyone pays their share. In that respect I am not quite sure we are in a tax haven yet, but we are trying, actually we are doing our best," said Margrethe Vestager
EU commissioner for competition.
"National tax authorities cannot give any company, however large, however powerful an unfair competitive advantage compared to others," she said. "This scheme puts smaller competitors at an unfair disadvantage."
Belgian Finance Minister Johan Van Overtveldt said the government could still appeal the decision.
"The consequences for the companies involved could be major, and the recovery extremely complex," he was quoted by the Associated Press as saying.
The Commission is also investigating Amazon in Luxembourg and Apple in Ireland.
In October, it told Fiat Chrysler and Starbucks to recover between 20 and 30 million euros linked to illegal tax deals with the Dutch and Luxembourg authorities.