Saudi Arabia-Iran tensions threaten world security, former minister tells euronews
Comments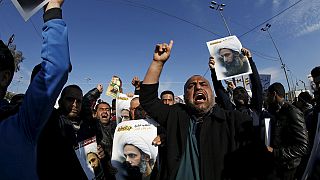 The diplomatic rupture between Tehran and Riyadh – following the execution of a prominent Shi'ite cleric by Saudi authorities – threatens world security, a former Iranian official has warned.
Ahmad Salamatian, who was Deputy Minister of Foreign Affairs shortly after the Iranian revolution, discussed the possible implications of current tensions with euronews' Fariba Mavaddat.
Fariba Mavaddat, euronews: "Mr Salamatian, this has gone beyond diplomatic tit for tat, do you think Iran and Saudi Arabia will be able to control the situation?"
Ahmad Salamatian: "The problems between Iran and Saudi Arabia in the region have mounted to such an extent that it has brought the situation to one that is comparable to the situation before major wars in the 20th century, such as the First World War.
"It looks as if the players sleep-walk towards a crisis that can explode out of control because of a minor incident, like an execution or an assassination, and lead to an irreversible war between the two sides."
euronews: "What do the two sides expect from each other?"
Ahmad Salamatian: "It is a crisis relating to leadership over the region, while nations are themselves are in a huge crisis because of the Arab Spring.
"In this situation, autocratic governments and dictatorships are being questioned. To add to the problem, the crisis between Iran and Saudi Arabia extends from Yemen to Syria, from Lebanon to Bahrain, and all over this vital region of the world.
"And these two powers (Iran and Saudi Arabia), whether intentionally or unintentionally, see themselves as standard bearers of geopolitical, religious and political leadership. Any incident in this volatile situation can take things out of control."
euronews: "The tension between Iran and Saudi Arabia, what will be the impact of this on the Syrian crisis?"
Ahmad Salamatian: "If the heat of the crisis doesn't cool, the next conference on the Syrian crisis, and finding a timetable for the resolution of this, should be considered null and void.
"Without the minimum agreement between Iran and Saudi Arabia, there's no way out of the Syrian crisis, no possibility of fighting Daesh (ISIL), no possibility of reducing conflict in Yemen and there's no way of preventing conflicts in other parts of the region. Neither will there be a possibility of creating a government in Lebanon.
"Today the security of the Middle East is not limited to its borders. The security of Europe, the security of the US and the security of lots of other countries in the world is directly related to it (security in Middle East)."