What am I allowed to carry? - airport security explained
Comments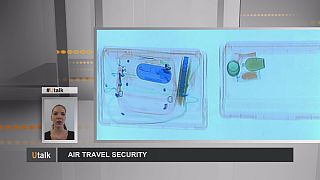 This week on Utalk, Anna in Brussels asks:
"I will be travelling by plane for Christmas. What can I carry in my hand luggage? And what should I expect in terms of security measures?"
The answer comes from Europe Direct Communication Officer, Nina Koudelkova:
"When travelling by plane from an airport in the EU, you should keep in mind there are certain security requirements when packing and boarding. For general safety, all travel items are scanned or otherwise checked before being allowed into airport security zones.
"For hand luggage, keep in mind that liquids carried in the aircraft cabin such as aerosols, drinks, toothpaste, cosmetic creams or gels must be carried in a transparent plastic bag – maximum capacity is 1 litre and no container may hold more than 100 ml.
"The volume restriction does not apply to medicines and baby food, be aware however that these items are only authorised for use during the trip and you may have to prove their authenticity. They must also be placed in a separate resealable transparent bag.
"Duty free liquids purchased from any airport or airline may be carried as hand luggage as long as the item and the receipt remain sealed inside the security bag with a red border provided at the time of purchase.
"You may not open the security bag until arrival at your final destination. However, security officers may need to open the bag and the bottles for screening. If this happens, and you have a connecting flight at another airport, tell this security officer so the liquids can be re-sealed in a new security bag.
"Any sharp objects that might be used as weapons are not allowed in the aircraft cabin. Explosives and inflammable items are prohibited on flights, even in your checked baggage. No weapons of any kind are allowed on board the aircraft.
"As part of the security measures, passengers may be screened by body scanners at any EU airport, either as the primary method of screening or as an additional method to resolve any cause of alarm. It is up to each EU country to decide whether to use these, but if a country has chosen this option, it must comply with a number of specific EU rules.
"If you are asked to undergo screening by a body scanner, be aware that you must be given the possibility of opting out. In this case you will be screened by an alternative method including at least a hand search.
"Check with the airport or your airline before travelling for more details."
*For more information about air security, call 0080067891011 or visit Europa*
If you would also like to ask a question on Utalk, please click on the button below.