Wife of jailed Saudi blogger hopes Sakharov Prize will be 'gateway to freedom'
Comments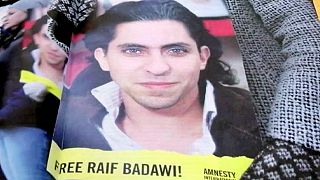 Saudi Arabian blogger Raif Badawi is being officially awarded the Sakharov Prize for Freedom of Thought on Wednesday.
I hope that this prize will be a gateway to freedom for Raif
But the human rights activist and author of the "Free Saudi Liberals" website will not be in Strasbourg to receive it.
Badawi was arrested in Saudi Arabia in 2012, accused of insulting Islamic values, and sentenced to one thousand lashes and 10 years in jail.
The first set of 50 lashes was carried out in public in January 2015. The rest were postponed in the wake of international protests.
European Parliament members adopted a resolution earlier this year, condemning the flogging as a "cruel and shocking act."
Badawi's wife, Ensaf Haidar, will collect the Sakharov Prize on his behalf.
"I hope that this prize will be a gateway to freedom for Raif, that it will bring him freedom," she told euronews.
"It's brought moral support to me and our children. I hope it will be seen as a sign of supporting Raif's release."
The Sakharov Prize is awarded every year by the European Parliament.
It was set up to honour individuals and organisations defending human rights and freedoms.
Announcing Badawi's award earlier this year, European Parliament President Martin Schulz said: "Mr Badawi, an exceptionally courageous and exemplary man, had imposed on him one of the country's most gruesome punishments, which can only be described as brutal torture.
"I therefore call on the King (of Saudi Arabia) to discontinue the execution of the punishment, to release Mr Badawi, to let him return to his wife and to enable him to collect the award here during December's plenary session."
You can watch this year's awards ceremony live on euronews on Wednesday at 12 noon CET.