EU eyes 'fairer' competition for aviation sector
Comments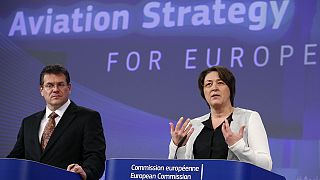 The European commission wants to convince Gulf-based airlines to give up alleged subsidies as the EU executive looks to tackle what it believes is 'unfair competition'.
European airlines accuse Gulf carriers of receiving market-distorting state subsidies, a charge denied by the companies themselves. They include Qatar Airways, Emirates and Ethiad Airways.
The transport ministers of France and Germany said in March that Gulf airlines benefit from "major subventions and public guarantees" and that they should only get landing rights in Europe if they operate fairly.
"While the additional connections provided by the Gulf airlines are welcome, there are concerns regarding the conditions under which they operate," the European commission said on Monday.
It said the aim of any talks would be "to bridge the interests of both sides by creating conditions that will allow further market development and growth based on common rules and transparency."
The commission will now seek a mandate from national governments to negotiate with the Gulf countries, as well as Turkey, China, Mexico, Armenia and the Association of Southeast Asian Nations.
EU officials unveiled the measures on Monday as part of its so-called 'Aviation Package' designed to boost economic growth and improve competition across the bloc.
The European Commission estimates that Europe's aviation industry contributes 110 billion euros to the EU's GDP.
But long-established national airlines have been under pressure over the past two decades. Low-cost alternatives such as Ryanair have put pressure on them to cut costs.
Business Europe, a lobby group representing major firms, said that existing legislation needs to be better implemented.
"A strong aviation sector in Europe supports more than 5 million jobs and adds more than 2 percent to EU GDP. The strategy rightly focuses on investment, market access, reducing costs and increasing efficiency," said its director general, Markus Beyrer, in a statement.
"We need an international level playing field and better access to growing markets. At the same time, it is important to create an attractive investment climate to support European airlines."