MEPs endorse air passenger data system
Comments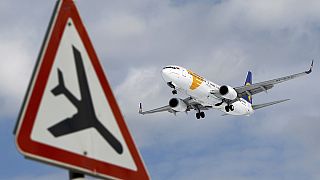 MEPs have backed plans to track airline passenger names as part of efforts to fight terrorism.
A group of parliamentarians voted to create an EU system to collate air passenger data.
They said it was part of Europe's efforts to fight terrorism and to prevent a repeat of the Paris attacks.
The draft law is being steered through parliament by a leading British Conservative.
"It will need more a little bit more informations about the plans of the person who is travelling, are they travelling to one location or more locations," said Timothy Kirkhope, a member of the European Parliament.
"The whole purpose of this thing is not to profile people, we are not looking very personal information. We don't want profiling but we are looking for pattens of activities, patterns of movements. That is the key of good intelligence"
The EU had been working on the so-called Passenger Name Record since 2010
But some officials worry about duplicating resources.
"We started in 1985 to introduce the Schengen Information System, then we had Europol. We have to be realistic, some of these platforms didn't have the results that we were expecting, some others start now to deliver results after many years," said Giovanni Buttarelli, the European Data Protection supervisor
"We need an answer against terrorism today, we don't need to introduce a new platform that will give results who knows when. It's better to start with more selective projects."
The draft law will go to a full vote in the European Parliament next year, where it is expected to be rubber stamped.