Slovakia goes to court over EU refugee quota plan
Comments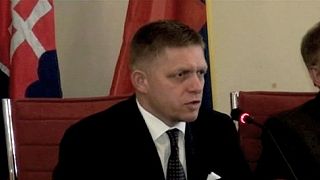 Slovak Prime Minister Robert Fico says his government has challenged an EU policy to relocate 120,000 migrants from Italy and Greece to other member states.
Fico filed a lawsuit against the mandatory quotas at the European Court of Justice on Wednesday.
"We think that there has been a violation of the rights of national parliaments and the European Parliament," he told reporters in Bratislava.
"We demand that the court annul this decision, pronounce it invalid and require the Council to pay the costs of legal proceedings."
Slovakia was one of the staunchest opponents of the scheme, along with the Czech Republic, Hungary and Romania.
But they were outvoted during talks between EU interior ministers in September.
The policy appears to have failed as the EU still struggles to cope with the influx.
Just 159 people have been relocated until now.
The UN says nearly 900,000 migrants and refugees have reached European shores so far this year.
That number is expected to climb to 1 million before the end of 2015.