Utalk: European PNR - what's at stake?
Comments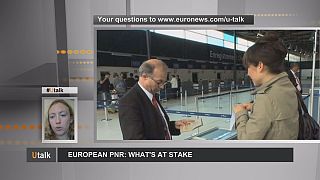 This week on Utalk, we answwer a question posted online by Muriel:
"In the wake of Paris attacks, the creation of a European PNR, or a Passenger Name Record system, is back on the agenda. So what's at stake? And do you think this new tool will help in the fight against terrorism in Europe?"
We put that question to Jenny Raflik-Grenouilleau, Senior Lecturer in Contemporary History at the University of Cergy-Pontoise in France:
"PNR stands for 'Passenger Name Record', which is simply a way of collecting the names of all passengers, as already happens with air travel in some countries. The much debated creation of such a European-wide system has been on the agenda for many years now.
"The opposition to pan-European PNR mainly comes from the European Parliament where MEPs, mainly liberals, greens and radical left-wingers, have been against it because they reckon it could undermine the protection of personal data and individual liberties.
"So what's at stake with PNR? It's about collecting – for every flight leaving or entering one of the EU countries – data on passengers that then could be compared to information contained in databases related to terrorism and organised crime.
"Such information could consist of names, addresses, bank details and other personal data such as the kind of meals ordered by passengers on board.
"This kind of record already exists. Almost half of EU countries already run some kind of PNR, but only on a national basis.Today the problem is that these existing records are not interconnected.
"It would mean Europeans having to share their information with the rest of the world, particularly the US. But it's doubtful that all European countries would be willing to go that far.
"Also the relevance of some of the data comes into question, such as the type of meal a passenger orders on board.
A terrorist could declare whatever he or she wants in that respect.
"As for names and addresses, if they travel with a fake passport, there is no way to track them down anyway. Besides, are we really ready to check passengers' biometrics data to strengthen our security measures? Again that's seriously doubtful.
"Finally, there's the question of how long the data is kept for. At the moment the suggestion is five years. For opponents, that's too long. But as far as terrorism is concerned, it take years before so-called sleeper cells become operational, so in that respect five years looks too short.
"So in the end, an EU-wide PNR system would obviously support intelligence services, but it's not a miracle solution."
If you would also like to ask a question on Utalk, click on the button below