Strasbourg steps up security after Paris attacks
Comments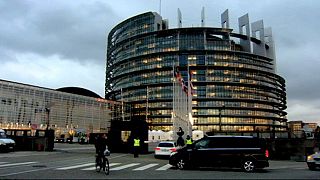 After the Paris attacks, the European Parliament has stepped up its security measures in Brussels and Strasbourg.
Security is also tight ahead for Strasbourg's Christmas market, which is about to open this Friday.
The market usually welcomes 2 million visitors coming from across Europe.
Roland Ries, the mayor of Strasbourg, will ask Interior Minister Cazeneuve more police and military means.
"We also planned security checks, on bags and persons, to stop people from entering with weapons," he said.
Activities for kids have been cancelled for security reasons, but local salespeople are happy that the market is taking place
"We have always done this (the market). It's not that because of a minority that is messing everything up, we stop it all!," said one vendor.
"We think of the danger, every day, but we have to go on living: life continues," said another.