EU mulls tighter border checks after Paris attacks
Comments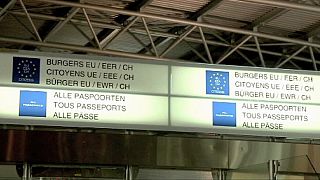 The EU is looking to tighten the external borders of the bloc's passport-free Schengen Zone as interior ministers met in Brussels on Friday.
Those checks would also apply to EU nationals who would normally qualify for the freedom of movement under EU law.
The emergency talks come one week after terror attacks in Paris that left at least 129 people dead.
The 28 governments also want to look at cracking down on the firearms trade and will discuss a possible Europe-wide data system to collate passenger information.
"There should be border checks at the internal borders of the EU because terrorists are crossing borders inside the EU," said Bernard Cazeneuve, the French interior minister.
Abdelhamid Abaaoud, a Belgian national, was the mastermind of the attacks in Paris; he managed to travel to Syria via Turkey in early January 2014, despite being stopped by police at Cologne airport.
The UK is not a part of the 26-nation Schengen zone, but it supports toughening up border controls
British Home Secretary Theresa May said that it is important "to ensure the security of the EU's external borders.
"That's why we've already agreed measures like hotspots," said May, referring to processing centres in countries where many migrants travels through. "They now need to be implemented."
The unity of EU member states is once again at stake, reports euronews correspondent Efi Koutsokosta.
She says that governments will need to strike a balance on those decisions which will affect both the security of the bloc and the refugee crisis.