France ask for EU help after Paris attacks
Comments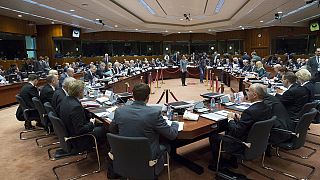 France has used EU law to seek help with military missions from fellow member states.
The French government on Tuesday invoked a previously unused mutual defence clause in EU treaties.
"France has requested aid and assistance in accordance with article 42-7. It's an article that has never been used before in the history of our union," said EU foreign policy chief Federica Mogherini.
All the remaining 27 countries backed the request.
The EU's mutual defence clause calls on member states to provide aid and assistance to a country that is victim of an armed aggression.
French Defence Minister Jean-Yves Le Drian said the move was a "political act of great significance".
Le Drian said it would "allow us in the hours to come to have bilateral talks where necessary" with other EU states to establish what aid France needed.
France says it will spend more on defence as a response to the Paris attacks.
The French government says it will ignore EU budget rules that limit a country's public deficit to three percent of GDP.
In April, three months after the Charlie Hebdo attacks, French President François Hollande announced that he would cancel planned defence cuts.
He said at the time that defence spending would rise by nearly four billion euros over the 2016-2019 period, ditching a planned seven percent cut.
France is already on the highest level of security alert. An extra 1,500 troops are patrolling the streets of Paris.