Belgium remains on high alert after Paris attacks
Comments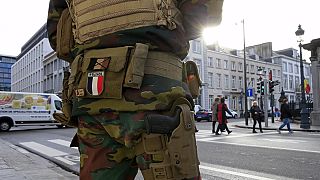 Belgium remains on high alert as the manhunt for one Paris terror suspect continued.
Police searched a car this morning in the middle of Brussels's EU district.
A euronews correspondent at the scene said no arrests were made.
But police and military presence remains high in the neigbourhood; armed officers have been stationed in the area since the Charlie Hebdo attacks in January.
On Monday, despite a major operation in the Molenbeek area of Brussels, police failed to find Europe's most wanted man, Salah Abdeslam.
Authorities in Belgium have released a new mug shot of the suspected Paris attacker to help with his capture.
A friendly football match between Belgium-Spain this evening has been cancelled for security reasons.