Climate change? Warmer weather leaves Belgian brewery in low spirits
Comments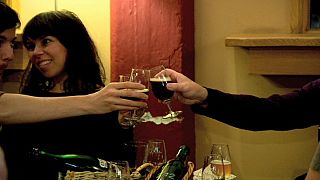 The owner of a Belgian brewery is in low spirits, as unusually warm weather wreaks havoc with production.
Brasserie Cantillon, based in Brussels, produces Kriek Lambic – a beer boasting a red colour and a sweet cherry flavour, which is regarded as among the best in the city.
But for 10 days now, everything has been at a standstill.
"The tank is empty! Normally, we should be brewing. But seeing the temperatures, we cancelled everything," explained Jan Van Roy, who runs the brewery.
The recent warm weather is causing problems because the beer is brewed in a traditional way – it has to cool down in a basin, for a full night in the open air.
"The beer can't cool down. The liquid arrives here at 85 to 90 degrees celcius – and it should cool down to 18 to 20 degrees. But with nights around 15 to 16 degrees, it's impossible," said Van Roy.
In fact, Belgium recently had its warmest November night on record. The brewery puts it down to climate change and says it has already had to reduce its production cycles.
"My grandfather started brewing in mid October and kept brewing until early May," explained Van Roy.
"Now, we normally start at the end of October, if everything goes well, or early November. And we finish at the end of March or early April."
The brewery is hoping its problems will be a wake-up call – ahead of the Paris climate change conference later this month.