Europe Weekly: historic Merkel-Hollande address and first refugees relocated under EU plan
Comments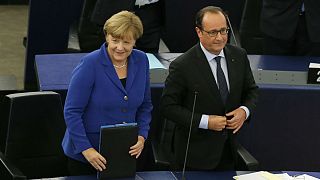 In this edition of Europe Weekly, all eyes were on French President Francois Hollande and German Chancellor Angela Merkel as they jointly addressed the European Parliament.
It was the first time in 26 years that leaders of the two countries had done so – and their speeches were dominated by the migrant crisis.
Meanwhile, the EU beefed up a naval operation in the Mediterranean to seize, board and divert boats that smuggle people to Europe.
And the first group of refugees to be moved as part of an EU relocation scheme was flown from Italy to Sweden.
Away from the migrant crisis, the highest court in Europe ruled as illegal an international agreement that allowed companies to transfer European citizens' digital information to the US.
Click on the video above to see this week's show.