Anti-Uber protest brings central Brussels to a standstill
Comments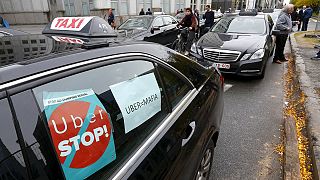 The Belgian capital of Brussels came to a standstill on Wednesday as some 300 taxi drivers protested against ride-hailing service Uber.
Taxi drivers accuse their Uber counterparts of not having the right insurance and failing to pay enough taxes.
"Uber wants to make governments believe that it will create jobs," said Saibi Najia, a Paris taxi driver who had travelled from France to take part in the demonstration.
"But they do not because people who work for them already have a job and do this alongside without paying extra tax. They don't set up a company where they offer their services to avoid paying social charges. They pay nothing."
Across Europe, many drivers pay thousands of euros to get a taxi licence.
Uber links passengers and drivers via a mobile application.It operates in 50 countries worldwide.
"Taxi drivers benefit from a certain monopoly which is not challenged. The use of public roads, parking spots in public places. These rights are reserved only for the taxi sector," said Mark MacGann, Uber's director of public policy.
France has banned the company's low-cost UberPop service pending a court decision later this month.
Ahead of a series of court judgements, Uber has launched an upmarket alternative service that requires professionally licensed drivers.