EU set to unveil fresh migration plan
Comments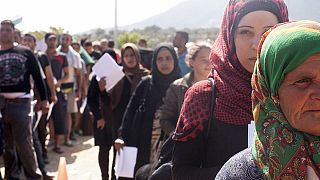 EU officials will unveil this Wednesday a new proposals to resettle close to 160,000 asylum-seekers across Europe.
German Chancellor Angela Merkel says that is just a first step.
She wants other EU countries to do more as well.
The European Commission will call for another 120,000 people to be relocated.
It already proposed to relocate 40,000 migrants last May.
In July, EU leaders agreed on how to resettle some 32,000 people – albeit on a voluntary basis.
The calls for Europe to step up and tackle the crisis have been echoed by the UN.
That was the message from the organisation's envoy for Syria, who was in Brussels for talks on Tuesday.
"Europe could do more, and we all know that. Firstly, Europe could find a common system, as suggested by the UNHCR, to welcome refugees with dignity and coherence everywhere. Secondly Europe could financially help refugees," Staffan de Mistura told euronews in an interview.
But immigration is a hot button topic in many countries and the EU remains divided on how to react.
Central and eastern European countries are strong opponents of compulsory quotas.