Germany and France call for stronger EU policy on migrant crisis
Comments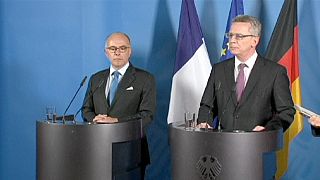 Germany and France are urging for policy change at EU level to address the migrant crisis in Europe.
A lot of things in Europe have to change
Germany's interior minister, Thomas de Maiziere said on Thursday that European institutions need to be doing more.
"We are not questioning Schengen, we are working on keeping Schengen. And one of the prerequisites is that a lot of things in Europe have to change," de Maiziere said at a joint news conference in Berlin with French Interior Minister, Bernard Cazeneuve.
"The rules are not the problem. The problem comes when those roles are not applied," said Cazeneuve.
Many of the tens of thousands of migrants arriving in Europe every week are fleeing war and oppression in their home countries, such as Syria, Afghanistan and Eritrea.
German Chancellor Angela Merkel and French President Francois Hollande are set to meet on Monday to discuss how to address the needs of those seeking asylum.