What can I take with me when I travel within the EU?
Comments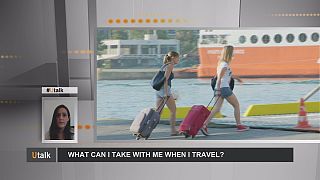 This week on UTalk, a question from Mary in Dublin: "I will be travelling to several EU countries this summer. I was wondering if I am I allowed to carry food with me where I am going. What about alcohol or cigarettes?"
Jimena Gómez de la Flor, Communication Officer for Europe Direct – the EU's information centre – responds:
"There are no general restrictions on carrying animal products if you are travelling within the EU, since all EU countries have to respect strict common veterinary standards. The same applies if you are travelling to or from Andorra, Liechtenstein, Norway, San Marino or Switzerland.
"However, some restrictions may apply in case of localised animal-disease outbreaks. If you are arriving in the EU from any other country, you may not bring with you any meat or dairy products without official veterinary documentation. This is to prevent serious animal diseases from being brought into the EU. You are, however, allowed to bring in powdered infant milk, baby food and foods required for medical reasons, subject to some restrictions.
"When travelling from one EU country to another, you can take tobacco and alcohol products with you for personal use, but not for resale. EU countries may limit the number of cigarettes you can bring with you from some EU countries, but this limit cannot be lower than 300 cigarettes. Check with the customs authorities of the country you are going to before you travel. If you are travelling with tobacco or alcohol and you stay within the personal-use thresholds, you may not pay excise duties.
"When it comes to cash, if you travel with 10,000 euros or more – or the equivalent in another currency – between EU countries, you should check with the customs authorities in the countries you are leaving, entering and passing through whether you must declare it or not. But, if you enter or leave the EU, then you have the obligation to declare it."
For more practical information to help you move around the EU, call 00 800 6 7 8 9 10 11 or go to http://europa.eu/youreurope/citizens
If you would also like to ask a question on Utalk, click on the button below.