Belgian dairy farmers call for emergency milk quotas
Comments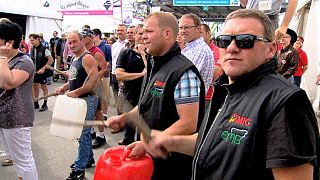 Following days of protests by farmers across the border in France, Belgian dairy producers launched their own demonstration on Thursday (July 24) at the opening of the country's Libramont agricultural fair.
At issue, the rapid drop in milk prices.
"The problem is that the price of milk is around 25 cents," dairy farmer Maxime Tasiaux told euronews. "It might even reach 20 cents. This is not profitable. We need a price around 35 to 40 cents to break even. We are losing money, we cannot repay loans, we don't know what to do."
An EU milk quota that kept the lid on production for more than 30 years, was lifted in April, opening the market to cheap surplus milk.
At the same time, farmers have lost many subsidies and are also facing a Russian embargo on EU produce.
While the change allows farmers to compete for large markets such as China and South Korea, small farmers say they can't survive the market volatility.
Reporting from Libramont, euronews correspondent Loic Verheyen said some farmers have launched a national fair trade label to protect the price of their product.
The goal is to reach a fair price. For example, for a bottle of milk sold for €1, 10 cents will go directly to the producers.
Six European countries currently participate in the fair trade scheme, but the pricier product still only accounts for less than 1 percent of the Belgian market.
Erwin Schöpges of the European Milk Board says farmers need temporary emergency quotas if they're going to survive:
"We need to regulate the production of milk. Today, we need a decrease in European production in order to reach a balance in the market. But when the crisis is over, then we won't want that system of regulation anymore; when it's over, we want to be able to keep producing."
European Agriculture Commissioner Phil Hogan was expected at the Libramont fair but cancelled due to a last minute scheduling conflict.
EU sources say new quotas won't be introduced unless one of the member states puts the issue on the table. European agriculture ministers are scheduled to meet in Brussels on September 7.