Climate change and migration : A hot issue for Europe
Comments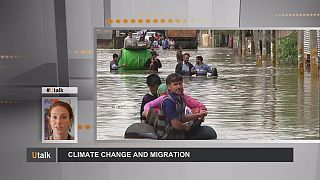 Is Europe worried about the problem of migration due to climate change? And is the status of a climate refugee recognised by international law?"
The migratory flow should be a warning to urge us to take measures to reduce the damage caused by climate change
"Climate migration is a phenomenon which has always been a concern for man, says Eleonora Guadagno, a climate change and migration expert. "But today, because of the increase in the damage caused by climate change , this question becomes more urgent than ever. And this has caused a unique case for the United Nations which doesn't offer any protection to these migrants under international law.
It is difficult to isolate the 'climate' factor in the migration phenomenon and it is always difficult to recognise the political responsibility of the states after an environmental catastrophe.
Europe is a culminating point for these climate migrations. Especially when it concerns future migrants coming from Africa and the Middle East, because of droughts and floods. But also because Europe has had to suffer population movements itself, for example after hurricane Xynthia. Furthermore it shouldn't be forgotten that Europe will have climate migration problems in its own right, for example the increase in sea level in Venice and the Netherlands. And also because of the melting of the glaciers in the mountainous regions and the increase in cyclones in the Atlantic coastal regions.
The migratory flow, both internally and externally, should be a warning to urge us, along with the third world countries, to take measures to reduce the damage caused by climate change, to limit the vulnerability of the populations concerned, and to form appropriate legislation to protect the communities of climate migrants which are the result of an economic and environmental imbalance on a worldwide level."
If you would also like to ask a question on Utalk, click on the button below.