Football officials must clamp down on match-fixing, say gambling firms
Comments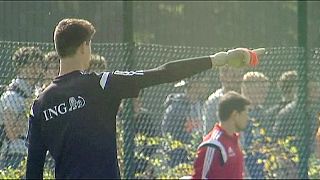 Football authorities must do more to clamp down on match-fixing, a group of online gambling firms have said.
In a report to the European Parliament, Federbet said more 50 matches were fixed in Europe over the past 12 months.
Without releasing detailed evidence of how they uncovered the information, the group said matches had been fixed in the following countries: Italy; Belgium; Greece; Portugal; Cyprus; Ukraine; Sweden; Slovenia; Hungry; Romania, and Croatia
"The tendency is very bad. it's almost dramatic, because the attempt of match fixing is growing up every weekend and the numbers are really, really impressive in a negative way," said Federbet secretary-general Francesco Barranca.
Belgian MEP Marc Tarabella said players found guilty of involvement in match-fixing should receive Europe-wide, or even global, bans.
"Harmonization of law, to consider that it is criminal to fix a match and to have a law for all of Europe and maybe outside of Europe and if a player is condemned n one country, it would not be possible for him to play in another country," he told euronews in an interview.
The Federbet report comes at a time when the beautiful game has turned ugly; FIFA, the sport's global body, is currently battling corruption allegations.